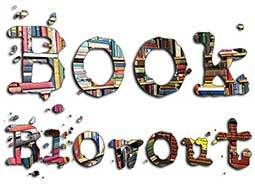 Blue Archipelago
is hosting a July Book Blow Out Challenge.
Just some info...
You can sign up any time between now and July 14, here!!!
To join you need to post about the Book Blowout on your blog - then set yourself a number of books to complete within the month!! :)
Make sure you post a list of the books you managed to read by the deadline of August 7 to complete the challenge!!
The rules...
Only books read between July 1 and July 31 count towards the challenge
You can include re-reads - as long as they are read within the month of July
Books you abandon will only count as half a book
If you read to your children you can include all books which have more than 100 pages
You can include up to two graphic novels
You can include up to two audio books - (if you have a visual impairment that prevents you from reading then you can use just audio books for the challenge)
Books you read for other challenges are eligible - use this as an opportunity to catch up!
If you start a book before July 1 and then finish it during the month of July then you can count is as half a book
An extra incentive...
Entrants who complete the challenge are eligible to win an Amazon gift voucher of $20 (£10).

My challenge goal...
15 books
Books read...

The Otherworldies

(Jennifer Anne Kogler) - ½ book [started in June]

Life As We Knew It

(Susan Beth Pfeffer)

Sorority 101: Zeta or Omega?

(Kate Harmon/Marley Gibson)

Rumors: A Luxe novel

(Anna Godbersen)

The Final Warning

(James Patterson)

Repossessed

(A.M. Jenkins)

Freeze Frame

(Heidi Ayarbe)

How to Ditch Your Fairy

(Justine Larbalestier)

Violet in Private

(Melissa Walker)

Take Me There

(Susane Colasanti)

Suicide Notes

(Michael Thomas Ford)
The Blonde of the Joke (Bennett Madison)

Fact of Life #31

(Denise Vega)

Picture Perfect

(Catherine Clark)

Labor of Love

(Rachel Hawthorne)

Play Me

(Laura Ruby)

Tracking Daddy Down

(Marybeth Kelsey)

How to Be Bad

(E. Lockhart, Sarah Mlynowski, Lauren Myracle)

Sisters of Misery

(Megan Kelley Hall)