The first book in Gillian Philip's Firebrand series is available in the US for the first time! To celebrate, I've got a fantastic interview and a giveaway, but first, check out this great book trailer below!




_________________________________________________________________
Now that three books in the Firebrand series have come out in the UK, how does it feel to have the first book available for the first time in the United States?
It feels great! Especially with the new cover. I love my UK covers but the US ones are stunning too. It also feels good to have a second bite at the later books - there were scenes I wish I'd put in
Bloodstone
, and now I can, because Tor are kind enough to let me do a few additions and adjustments. That's not a chance a writer often gets.
What inspired you to write Firebrand?
Seth! He was originally a minor villain in
Bloodstone
, and I had to rewrite the whole thing when I realised the series was first and foremost his story.
Firebrand
was a backstory that turned into an entire novel. I'm also really inspired by landscape - I like to walk miles, imagining scenes and characters.
Bloodstone
came about because of a small loch in the Highlands that I love - I imagined a couple of characters falling into it and vanishing.
Firebrand is first and foremost a fantasy, but there seems to be a strong historical element as well. What kind of research did you have to do for either or both of these aspects?
I'm the world's laziest researcher, but once I started to read about sixteenth century Scotland I was hooked. It was a pretty terrible time to be alive, with religious wars and the Reformation and witch-hunts, but if that's bad for your characters, it's great for the story. I went back to loads of original sources, like King James VI & 1's Daemonologie, the Malleus Maleficarum, and contemporary accounts of witch trials. I even found a price list for torturing and executing witches...
As for the myths and legends, I'd been familiar with some of them since I was young, but I read up about them in much more depth. I got the series title from an old Highland legend that the faeries are the rebel angels - or the ones who fell on land. The ones who fell in the sea became selkies, the seal people; the ones who got caught in the sky became the Northern Lights.
In Firebrand, the mortal world and the Sithe realm are distinct yet connected. Can you tell us a little bit about how you developed these two settings?
The idea of a portal between dimensions is of course a pretty common one in fantasy fiction, but for a good reason - it's such a great device :-) And there is a concept in Celtic myth of a veil between the faery world and ours. I wondered what would happen if that barrier was rotting away, and in danger of dying, and who that would threaten most - us, or the creatures on the other side. My Sithe world is identical in terms of landscape to the real Scotland, but a lot wilder - and my Sithe, because they move between the worlds, are kind of fond of our technology, and have no problem stealing it. I had fun giving them things like iPods and fridges in the later books.
What is the most interesting thing you learned while writing Firebrand? (This can be about yourself, about writing, or anything at all).
I think the most important thing I learned is to stay true to the story. Even in manuscript,
Firebrand
got a lot of wildly varying responses. Some readers loved it and some hated it. And the same applied to Seth - I was taken aback by how much some people disliked his character. I wasn't averse to making some changes, and I did - he thinks a little more deeply in the final version, and he also has a few lighter moments - but I knew he had to be himself, right down to his bones. There are a lot of bad aspects to his character (well, he did start life as a villain), but taking away his stroppiness, his arrogance, his propensity for violence, even his prejudices - that would have made him another person. I talked about this to a lot of other writers who have the same sort of dilemma, and we all know there's a balance, and that only the writer can try to judge where that is. You can't crowd-source your character's attitudes and morality... but it is agonising sometimes!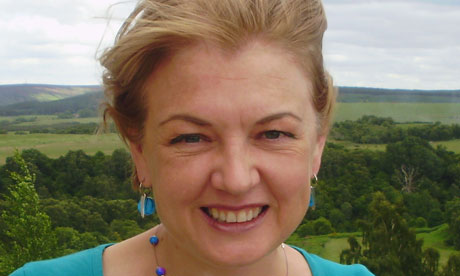 What is the most rewarding part about being an author?
The knowledge that people are reading your story, and enjoying it - sometimes even that they're not enjoying it, but are reacting strongly to your characters. When you're writing a 100,000 word novel, you spend a lot of time with the people in your head, and there's nothing quite like introducing them to other people, in the real world.
If there was one thing you could change about Firebrand, what would it be?
Oh, all sorts of things... see what I said about
Bloodstone
in my first answer? I think all books are like that. I can't read a passage out loud to an audience without my internal editor kicking in.
I've often wondered if I'd change the ending... but I wouldn't.
What are you working on next?
I'm looking forward to writing the final draft of the fourth
Rebel Angels
book, provisionally titled
Icefall
. I have a rough idea what happens, but it needs a lot of work. I'm also writing a middle grade series,
Rookery Island
, under a pseudonym, for a fantastic company called Working Partners. I also write for them and Harper Collins as Erin Hunter - it's a series called
Survivors
, which I love working on, about a group of dogs left alone in a post-apocalyptic world. I'm touring the US in May to promote Book 2,
A Hidden Enemy
, and I am so looking forward to that. Finally, there's a contemporary YA thriller cooking away in my head, called (for now)
Spitting Distance
- I'm really keen to get back to that one too. The characters are calling... Oh, and at some point I have to clean my house...!
_________________________________________________________________
(1) lucky winner
will receive
Firebrand by Gillian Philip
courtesy of Tor
Other details:
US/Canadian mailing addresses only.
Contest ends

3/23/13

, at

9 p.m. EST

.
Remember,
you must complete the form to be entered
, and
only one form submission per person will be counted
. If you have any questions about this contest, see my
contest policy
, or
contact me
and ask away.